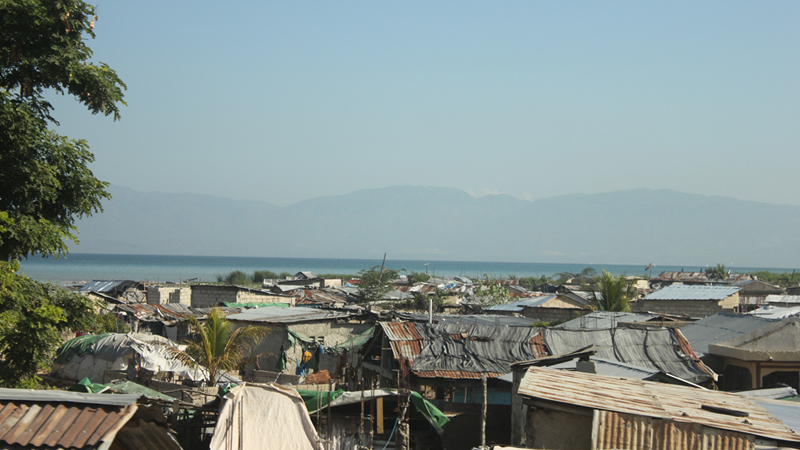 Balancing Act-Helping Without Hurting
We started the day with a beautiful hike up the mountainside with a view all the way to the ocean. Then we took a road trip to Jan Jan to visit the church that will be our second GlobalFingerprints child sponsorship program in Haiti. It is pastored by Henri Claude Joseph who is married to Rosita who was the cook here at the guest house. She will now be helping her husband run the program in Jan Jan. It was an eventful ride through a mostly dried up river bed into a beautiful hidden valley village. We all received a free spinal manipulation in the process! This river completely flooded the area during Hurricane Matthew this fall. We encountered an adorable group of schoolchildren in their color coordinated uniforms who gave us a celebrity welcome especially when they saw cameras. We were instantly mobbed and las dozens of little cuties attached themselves to us, stroking our skin and holding our hands! This area is a hidden paradise despite the poverty and we were warmly greeted by many on our community walk. Please pray for the construction of a new church and success for the child sponsorship.
In the afternoon we returned to the sewing school with the goal of finishing the doll heads and teaching methods of attaching yarn for hair and starting the sewing and stuffing of the bodies. The ladies were engaged and working hard. However, it became evident that they weren't as skilled in their sewing skills as we had hoped, despite being taught at the school for a year. There were many challenges regarding the condition of the sewing machines as well. It is easy to get discouraged with the "progress" we Americans want to see. It would be easy to push our agenda to keep moving to next steps in the process as well and not give difficult but necessary feedback about the quality of the work. But we don't want to patronize or pity these young women which would be a major disservice. There's a balancing act in helping without hurting. We want this to become a self-sustaining Haitian-run endeavor in the long run.
After the training today, our team had a long conversation about next steps in our remaining time of instruction with wise input from our ReachGlobal team members who live here and understand this culture far better than we do. We made the decision to go back and review what's been taught so far and monitor quality and technique more closely tomorrow without moving on to what we had initially planned which was to teach them to make a doll dress. So proud of our team to be willing to put aside their original agenda despite their many hours of planning and preparation for the greater good of this partnership in the long run! This model of empowering and equipping takes more time and patience and lots of prayer. Please pray that the remainder of our time will be fruitful and God-honoring. Pray we can speak the truth in love and communicate our reasons for doing so. Pray that this more detailed instruction review tomorrow will strengthen relationships and we can love on these beautiful ladies! God is changing and growing us in this process.