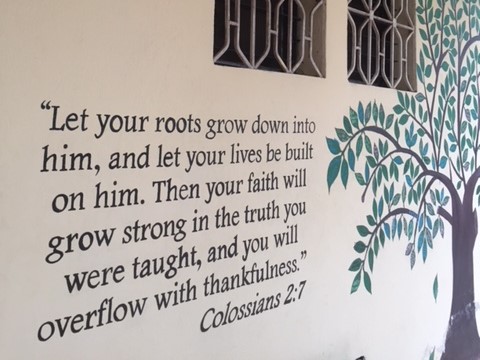 Final Thoughts: Paul, Lisa, and Jeremiah - Haiti October 2017
The next two and final blog posts will be some short thoughts from each of the team members about 24 hours or so after returning from our trip to Haiti. Thank you to everyone who has supported us.
PAUL NEI:
Having spent the week in Haiti with some congestion and a cough, my strength was lifted by the work of my fellow Constance team members, always working hard, pushing for the next thing to be done. Sometimes Grace comes through fellow brothers and sisters. Having been to Haiti twice before, I had seen most of the things my team was experiencing for the first time. But as usual, there is always something new that God puts on ones heart. Joe, a sometime employee of reach global, allowed us into his home to pray for his wife. A soft spoken man with kindness written on his face. He reminds me of a verse Jason brought during a nightly devotional, "No soldier gets entangled in civilian pursuits, since his aim is to please the one who enlisted him." ‭‭(2 Timothy‬ ‭2:4‬ ‭ESV‬‬)
No matter who we are, or what we have or do not have, we need to focus on the one who "enlisted us" in this way our lives are fuller, more joyful because the fullness and joy come from Him, our savior, Jesus the Christ. Thanks again Seth, Jason, Lisa, Jeremiah for the hard work and pulling me through a week of not feeling the best.
LISA JORGENSON:
I'm thankful that the Lord gave me an opportunity to go on a mission trip. I spent a week outside of my comfort zone and had to turn to God daily for strength. I'm grateful to all of my family and friends who encouraged me before the trip and who prayed for me during the trip. I'm also thankful for the Reach Global missionaries who hosted us and for their dedication to serving God full-time in Haiti. And thankful to my teammates for their friendship & for getting rid of the tarantulas and other spiders that we saw.
As I return home, I'm very grateful for many of the things I took for granted before – flat paved roads, street signs, fresh water (both hot & cold!), AC, electricity, access to medical care, the list goes on and on. I pray that I will continue to appreciate all that I have here at home as I return and get back to daily life here in the States.
JEREMIAH FOERTSCH:
I went into this trip thinking God would tell me something. I thought He was going to tell me I live in excess and that I am blessed beyond others. That I need to strip down my desire for materialistic goods and to steward what I have differently. God however spoke loudly in other ways. Unfortunately, 48 hours later my thoughts are more scattered than I would have imagined.

I shared with the team at the beginning of the trip one of my favorite verses.

Matthew 28:19-20
"Therefore go and make disciples of all nations, baptizing them in the name of the Father and of the Son and of the Holy Spirit, and teaching them to obey everything I have commanded you. And surely I am with you always, to the very end of the age."

This is truly my heart but also important instruction from the Lord. What God taught me in Haiti was the "go" part. Making disciples is relational and intentional. It takes time and effort but it begins before that. It begins with answering the call to go. I was called and desired to go to Haiti, but that doesn't mean the same will be true for you. What time in Haiti taught me was that to "go" means to live in obedience to Christ's call on our lives through these verses. I went to Haiti and saw a poverty-stricken country, but spiritual poverty is not only found in Haiti, it's right next door. Spiritual poverty has its ugly hands on the family next to you on the sidelines or in the bleachers. Poverty sunk into your extended family so much so that family get-togethers aren't enjoyable for everyone. We have the opportunity to change that by going. What does it take to go then? I've learned it doesn't take much. A helping hand, a listening ear or an open schedule. God will make it clear how to serve, it's you that needs to take the first step. By going we place God's call at the forefront of our lives by trusting He will guide us. Listen and making yourself available to others is the simplest way to go. It'll open doors to share the Gospel and to experience transformation. Haiti taught me that taking the step to go was the hardest part, but that God would guide me through the experience. Open the door to go and consider Haiti as a place to serve.

Feel free to ask about my experience in Haiti, I'd love to share more.