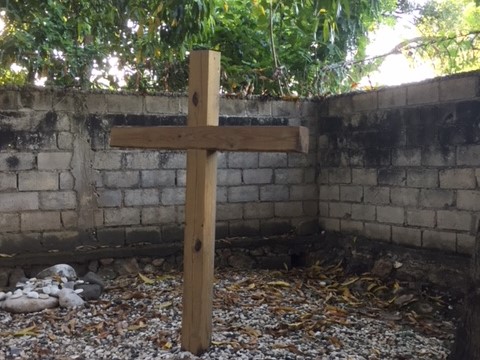 Final Thoughts: Seth and Jason - Haiti October 2017
Last blog post for Haiti October 2017. Final thoughts from Seth and I.
SETH RUST:
Jeremiah 20:9 But if I say, "I will not mention his word or speak anymore in his name," his word is in my heart like a fire, a fire shut up in my bones, I am weary of holding it in, indeed, I cannot.
Last week, I spent six days in Haiti with a team of five. We spent much of our time building a bunk house for future short-term mission groups. At times, we were hot and crabby, but through the grace of God, we were able to finish a large portion of the structure. I am incredibly thankful for the opportunity to visit a foreign country and share the Gospel with a people group obviously in need. However, do I (or you) need to visit a foreign county to share the good news of Jesus Christ with others? Not everyone is called to move to Haiti, but we are all called to share the Gospel with our neighbors. Our mission field is right in our backyard, in our place of work, in our schools, and in our families. If we believe one week in Haiti fulfills our evangelism quota, we are missing out on the Great Commission. Remember, this Earth is not our home, we are foreigners. Live like it.
JASON VAN BUREN:
To be honest, I am still gathering and processing my thoughts. The prior blog posts reflect a lot of that processing. I find myself missing Haiti. I am not sure if it's Haiti specifically or if it's the clarity of vision we experienced while there. Daily fellowship with believers that are, despite their own brokenness, willing to risk and work to love a fallen world, and to do it out of their own comfort zones while trusting on Christ to supply the needed strength and wisdom was powerful. In some ways re-entering my life has been challenging. It has not been difficult to embrace air conditioning or clean streets, but it has been difficult to fight for holding that clarity of purpose. In just a short time, all the trappings, concerns, anxieties, and pressures seemed to return to compete for my attention and focus. Where I was able to read Scripture daily in Haiti, I am just now getting some time to return to the Gospel of John.
Hebrews 12:1-2
"Therefore, since we are surrounded by so great a cloud of witnesses, let us also lay aside every weight, and sin which clings so closely, and let us run with endurance the race that is set before us, looking to Jesus, the founder and perfecter of our faith, who for the joy that was set before him endured the cross, despising the shame, and is seated at the right hand of the throne of God."
My struggle is how to live Hebrews 12:1-2. How do I run my race of faith with endurance and keep from getting weary? How do I lay aside every weight and sin, when most aspects of our culture add weight to keep me from running faithfully? How do I fight for that clarity of purpose and fellowship, experienced in Haiti, here in Minnesota?
I left with the eager expectation that God would use this experience to do something. I still hold to that expectation; although, I do not know what it might be. I do know that God has given specific gifts and a placed each of us where we are for a purpose. Maybe that purpose doesn't need to be perfectly clear before we start working, maybe clarity comes after we step out in faith, and maybe that eager anticipation is preparing the way for something else. I do know this, the struggle to keep the eternal in focus amidst temporal concerns is a fight, but a life lived in God's power rather than our own is worth that fight. Perhaps a good starting point is to follow in John's footsteps confessing, "He must increase, but I must decrease." (John 3:30)